Before I go on this rant, I'm going to let The Miz kick it off right...
Really Nicki? REALLY? You are REALLY going to get mad about
a person's OPINION on a song?
REALLY? You are REALLY going to have a diva moment and
NOT perform at the BIGGEST hip-hop concert of them all
REALLY? You and the rest of YMCMB REALLY think you are hot shit? (with the exception of Drake) REALLY? I wasn't going to make a post about this, but after that
burnt ass interview with Flex yesterday
, I just had to rant about this.
Nicki Minaj is really possessed by the demon Stupid Hoe known as Roman Zolanski. This bitch REALLY thinks she is the greatest thing since slice bread, and feels she doesn't need to prove anything to anybody. It's really sad to see her become what she is now, and all I can really do is just shake my motherfucking head. That interview with Flex showed who the real Nicki Minaj is, it showed that her ego is out of this world. It also showed that she really can't take criticism well either, she rather just have a bunch of "Yes" men around her, and have everybody just bow to her with no questions asked. In her world, she is the Queen and we are just her servants. Then I guess she will
scream for my execution
if she ever reads
my review for that God awful album of hers
.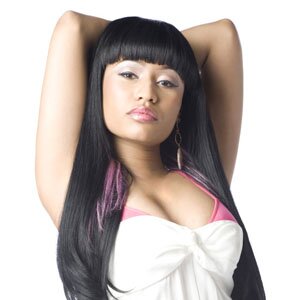 I miss the old Nicki Minaj, I miss the Nicki Minaj that was on the
5 Star Bitch remix
. I miss the Nicki Minaj that made a statement on
The Throne's Monster track
. I missed the Nicki Minaj that actually
held her own with Slim Shady
. I just miss the Nicki Minaj that can rap period. Now a days it just seems like she will only spit a good ass verse when she really wants to. And lately it just seems like she just gives no fucks no more. She just feels like she achieved everything there is to do in rap, now she is just gonna go the Lady Gaga route. She is trying to jump in all sorts of lanes that have already been achieved by other folks. The only lane she should be on should be her OWN, but it just seems like she hasn't even made that one let. Don't try and be on Hov's Lane, MAKE YOUR OWN LANE!!
The Nicki Minaj now is a compete stranger, and to be honest she should be a compete stranger to all the fans that have been with her since the beginning. She already showed how she doesn't give a flying fuck about her fans. This Summer Jam incident was a compete example of that,
not mentioning that little tweet tantrum she had
. But of course, her fans forgave her and welcomed her back with open arms. She can literally spit in their faces and then say that they deserved it, and her fans will just say "Your right Nicki, I am worth nothing, I deserve to be spit on". However, she can't pull that shit on a casual hip-hop fan. You pull some shit like that, you will end up losing more fans then gaining them. She is already on VERY thin ice with the casual hip-hop listener and her 15 minutes of fame are getting REAL close to being up.
Matter a fact, Weezy and the rest of the YMCMB's 15 min is approaching to a close. It was Weezy's call to pull the plug on Nicki's performance that night and run away with their tail between their legs. In my opinion I think it had something to do with a certain
individual
being in the same presence of them. Or in fact it could be a lot more deeper then that, who fucking knows and who fucking cares. The bottom line is, THIS was NOT a good look, no matter how you look at it. How in the hell are you going to pull the plug on your main artist on one of the biggest hip-hop stages ever. YMCMB is full of a prima donnas, and Weezy is a complete example of it. In reality, Nicki learned everything from Weezy, a dude who reps the blood gang, wears skinny woman jeans and is a skateboarder all of a sudden. Oh yeah don't forget, she also learned that you should feel
entitled to get into events rather you have a ticket or not
....
Right....
a diva trained a diva
...
All in all..Nicki Minaj has really disappointed me in more ways then one and it just pains me to see a artist not live up to their potential. It just seems like Roman has took over Nicki Minaj and is showing no signs of letting her come back. Oh well, I hope she lets her come back before it's too late. I don't want to come back and say I told you so...
~~Mr. Busby~~